Human Resources
Katerina Marini
Managing Partner/ Managing Counselor Lawyer to the Supreme Court Accredited Mediator
Foreign languages : English, French
Ms Katerina Marini has been practicing law in Athens since 2004. She has handled family law disputes as well as disputes of large financial background. She amongst others is experienced and expert in matters of real estate, expropriation, corporate law and immigration for investors.
Nikolaos Spanos
Attorney at law before the Supreme Court of Greece, LL.M.
Nikolaos Spanos is a registered lawyer at the Athens Bar Association since 2003.
He has graduated from the Law School of National and Kapodistrian Univeristy in Athens.
He has been engaged in various cases mainly on civil, administrative, commercial and penal law (handling of cases, drafting of legal actions, drafting of agreements, court representation)
Foreign Languages: English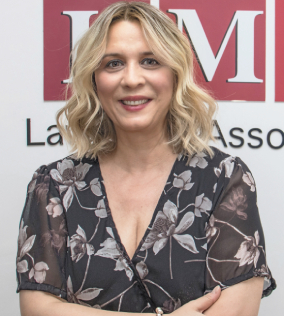 Giouli Agoroudi
Attorney at Law by the Court of Appeals, Thessaloniki Bar Association
She has been practicing law in Thessaloniki and Athens since 2002. Among others is experienced in matters of Civil ,Commercial and Administrative Law. She offered legal support to Greek companies in the field of energy and real estate and to organisations of the public sector. She speaks English.
Andreas Toskas
Olga Skopeliti
Attorney at Law by the Court of Appeal, Athens Bar Association
She is graduate of the Law School of Aristotle University of Thessaloniki, with a Master's degree on "Labour Law" and certification on "Business Management-Strategic Management" by Ethniko Kapodistriako University of Athens.
She is mostly engaged with Civil Law and Labour Law cases and especially, with Contract Law matters for enterprises in Greece and abroad. She speaks English, French, Italian.
Maria Alexopoulou
Attorney at law first instance
Miss Maria Alexopoulou is a graduate of Law School of National Kapodistriako University of Athens. She has engaged herself in numerous cases of family law (parent/ children relations, husband/ wife relations) and with their resolution, as well as with immigration law (N 4251/2014), with specialiazation in residency permits for reasons of investment. She speaks english and french.
Ivana Papagianopoulou
Attorney at law first instance
She is a European University of Cyprus graduate and holder of LL.M in Chinese Law from Beijing Normal University. She has worked, as an intern, at the Hellenic Data Protection Authority in the context of comparative research on the protection of personal data in European Union and the People's Republic of China. She has been engaged in various cases, mostly related to personal data protection and companies' compliance with the relevant legislation, family law, enforcement law and with residence permits for investment purposes. She speaks English, Chinese, French, and Turkish.
Panagiota Konsta
Lawyer
She is a graduate of University of Athens Law School. She is engaged mostly with civil , administrative, criminal and commercial law cases. She speaks English and French.
Marianna Foti
Trainee Lawyer
Elena Sampsonoglou
Personal Assistant
She is a graduate of Business Administration department.
She has worked for the Bank of Greece and Piraeus Bank in the leasing department. She also worked as an auditor assistant for 6 years. The last years she is working as a personal assistant. She is fluent in English.
Martha Kourasi